In cold climate area like Nordic Europe, the heating boilers and burners with hybrid heating system for domestic use to integrate heat pump and pellet boiler are popular.
Pellet boiler combined with air source heat pump, can be made into a heat recovery system which is energy saving.
Combining pellet boilers and heat pumps can work of the strengths of each but the system control has to be set up so they don't get in each other's day.
The heat emitters also be able to function suitably well at the lower temperatures produced by the heat pump, Conversely, low temp heat emitters are not a problem for the pellet boiler as hot boiler water can be mixed in with cooler "return" water in order to achieve appropriate temperatures.
For example,the hybrid heat source can be selected  (pellet or heat pump) depending of energy price at the moment for different source and conditions.  As electricity price change, then calculate the inverter heat pump COP depending of outside temperature, heating water temp (needed) etc.
So that you could use heat from heat-pump for floor heating and pellet for hot water production as you needed. At cold weather and high electricity price could use pellet heat source. Like at night while electric price is low then using the heat pump as heat source.
A weather dependent heating curve helps a lot to increase the SCOP of the heat pump hybrid heating system, (e.g start heating with 30° flow temperature at 15° outside temperature (24h) and increase flow temperature linear to 48° at -10° outside temperature.
Here is brief diagram for hybrid heating system of boiler/burner integrated heat pump: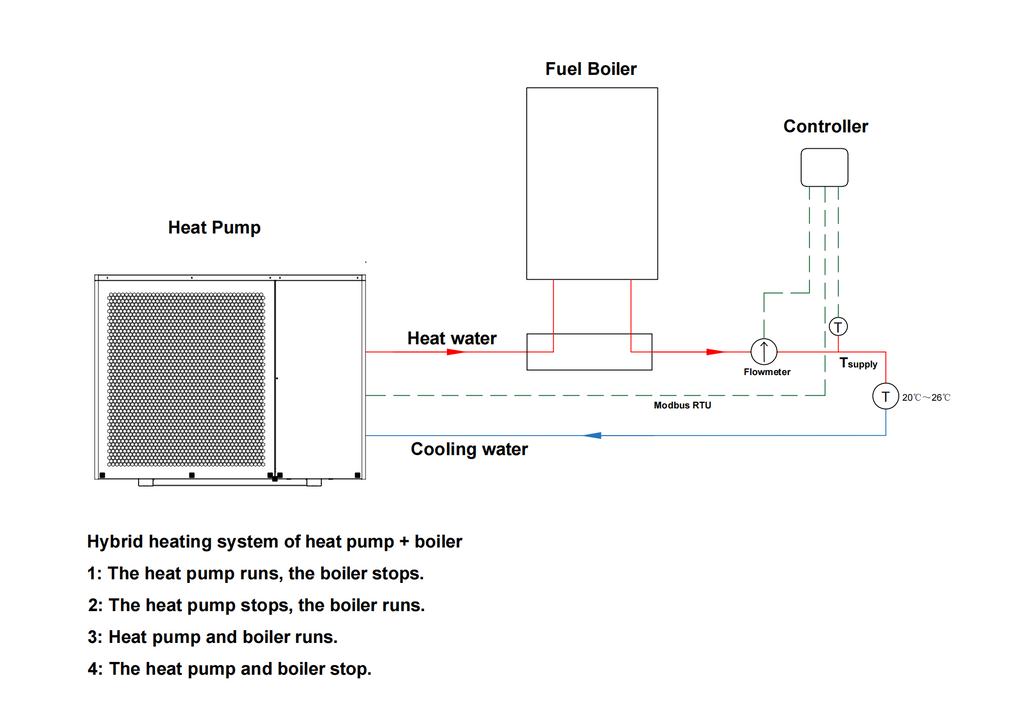 EXINDA self develop software could develop specific logic requests by difference solutions based on each country's energy policy,  by using Modbus (RS485) connection.
Developing a customized integrated system are not a simple logic change, once logic change, the heat pump should run long term stability test to assure it could work well in all condition. So develop period at least take 4 months.( Logic develop 1 month, logic test 1month, heat pump performance reliability test 2 month)
But we are ready for a better green energy heating solution, welcome to send us an email for a technical discuss. we have strong R&D to work together and make it happen.